Aero Club in Wellington FL | Homes for Sale | Market Report July 2015
Aero Club of Wellington Florida is more than the only fly in community in Wellington Florida! Imagine waking up in the morning to the sun rising and you see it is a clear day for a ride today. 
You stroll out of your large luxury estate home into your backyard hangar where your Cessna or your Piper Cherokee is parked, ready to take you for a wonderful flight around the Aeronautical community of the Aero Club of Wellington Florida and the rest of Wellington Florida and beyond.
Of course, you chose a home on a lot that backs up to the irrigated runway.You taxi your plane right out of your own private hangar onto the runway and away you fly! There is a 4,000 foot irrigated runway that is turfed and lighted and is 110 feet wide. 
 The blue lights at night are so beautiful and soothing to watch. We love driving by and just stopping to observe the true beauty of the runway and the surrounding homes. The identifier is FD38 and it is a private airport for single engine planes.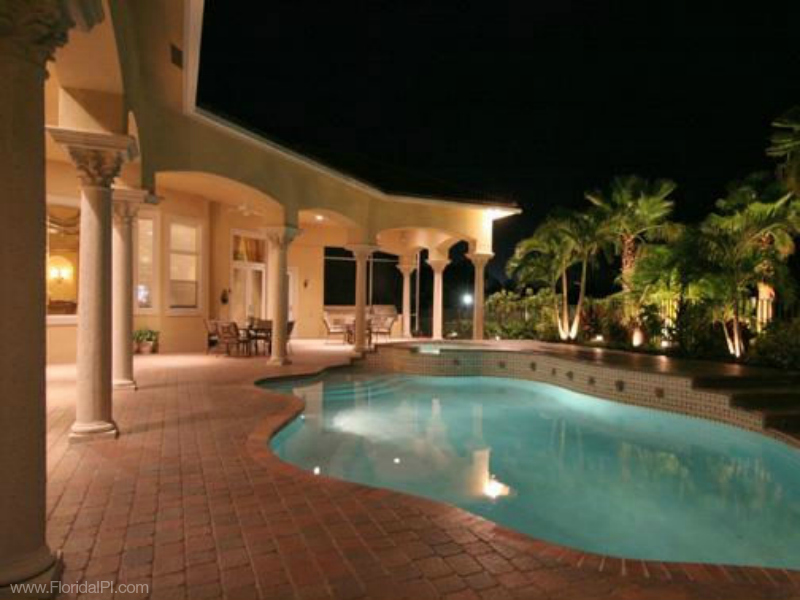 The Aero club is near  the Wellington Country Club and is close to the Polo Fields, Palm Beach Point, Southfields Equestrian Community as well as other Equestrian Communities in Wellington Fl. Take part in the social activities hosted by Aero Club's own private clubhouse events such as holiday parties, fly ins and fly outs and more. The Aero Club of Wellington Florida is only 14 miles for the beach and the famous Worth Avenue in Palm Beach shopping.
The Aero Club of Wellington Florida is a unique community and most people pay cash for their homes. Should you choose to finance your home here please keep in mind and inform your mortgage broker that this is a non conforming community. Some lenders do not lend in non conforming communities but we have closed loans on homes here so we know it can be done.
The reason is that this is considered an Aeronautical community and even though it is not a requirement to own a plane to live here, the community caters to the Aeronautical community, therefore it is not conforming to some lender standards.
There are 284 one acre + lots in the Aero Club of Wellington Florida with most of them having homes already built on them. The homes have between 3,000 square feet under air conditioned space to 8,000 square feet under air. Many of the homes have their own private hangars and you can even buy a home right on the runway on a road called, "Take Off". 
The homes that are along the taxiway are listed with a premium and so are the hangers depending on the condition. This is a very new community with most homes having been built in the late 90's to the early 2000's. There are people living here who are pilots and love to fly and there are people living here that just enjoy the acre of land and the customization of each home.
Market Report for July 2015
There are currently 3 Aero Club homes for sale in Wellington Fl with offering living space at 3,800 square feet and 5,314 square feet. The homes are priced at $989,990 and $1,450,000, respectively. These homes are not under contract.  
Aero Club Homes For Sale In Wellington Fl:
·        3 Homes – Traditional Sales – Average List Price: $1,155,552
·        No Short Sales
·        No REO/Bank Owned Properties
There were no homes that were sold in the community of Aero Club in Wellington Fl during July 2015. During the previous year, there was 1. The home was listed for $595,000. After staying on the market for 19 days, it was then sold for $539,000.
There 3 pending sales at that time. The homes were listed for the average price of $756,333 and they stayed on the market for 91 days overall. During July 2015, there was 1 pending sale in the community. This home stayed on the market for 34 days and it was listed for $1,000,000.
For more information on homes for sale in Aero Club of Wellington Florida, please call us, Nestor Gasset and Katerina Gasset, at 561-753-0135. Nestor Gasset offers exclusive equestrian buyer representation for horse enthusiasts. We have all the tools to search for the right home for you. Allow us to provide all the tools and information you need to satisfy your real estate needs in Wellington the Equestrian Capital of the World.
Click here for the most current list of homes for sale in Aero Club.
Never miss an important post- follow me on my ActiveRain Blog 
Speak Visually. Create a presentation with Visme
In real estate we service Wellington, Palm Beach, Royal Palm Beach, Port St Lucie, Loxahatchee, Boca Raton, Delray Beach, Boynton Beach, Lake Worth and surrounding towns in Palm Beach County, Broward County and Miami/Dade County.
 Nestor Gasset is the real estate broker of International Properties & Investments LLC. Click on our profile to read more about Nestor Gasset and his qualifications and experience.  We sell properties others could not sell.  
Call Nestor Gasset today to work with him in reaching your real estate goals: 561-753-0135
Llámenos hoy al 561-753-0135 para vender su casa.
Katerina Gasset is a real estate agent who is also a digital marketing strategies, website designer and consultant for real estate brokerages, agents, entrepreneurs and small business owners. 
Katerina is a Certified Digital Marketing Funnel Expert. She is the creator and owner of Listing Experts Academy teaching real estate agents and brokers how to dominate their marketing on the internet. 
She develops products and online courses to empower real estate agents to reach their marketing, SEO, social media and branding goals. Katerina Gasset is a blogger, author, podcaster, and keynote speaker.  
Text Katerina with your name + number to work with her:
 561-502-1577 
For more information check out the articles and websites below:  
Real Estate Information:
Digital Marketing Information: